Case Study - Derek Bell MBE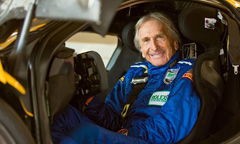 Rebecca had worked with Derek Bell on a number of occasions over the years, but 2016 saw her take on the five times Le Mans legend as his agent.
Derek Bell shows no signs of ever slowing down and has an action packed schedule throughout the year across several continents! Rebecca assists Derek with managing his events/appearances and commercial relationships.
Derek Bell MBE is a British racing driver who was extremely successful in sports car racing, winning the Le Mans 24 Hours five times, the Daytona 24 three times and the Worlds Sports Car Championship twice.
He also raced in Formula 1 for the Ferrari Wheatcroft, McLaren, Surtees and Tecno teams. He has been described by fellow racers as one of the most liked drivers of his generation, and is regarded as one of the greatest sports car and endurance racing drivers of his era.
Splitting his time between homes in the UK and US, Derek can be seen at the world's major automotive and motorsport events. He is the global Bentley Motors brand ambassador, an accomplished speaker and an experienced television and radio motorsport commentator.
Despite the huge success Derek has enjoyed in motorsport, he remains approachable and down to earth, qualities which have endeared him to a global fan base.
His ability to communicate in an easy and friendly style reflects his easy going and very English personality. He is a brand ambassador for global automotive manufacturers including Porsche, Bentley and McLaren and is often sought after for award ceremonies, Concours judging, after dinner speaking and product launches. Please contact us for further details.