Case Study - London to Brighton Veteran Car Run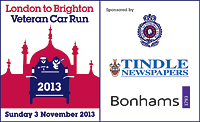 'On behalf of everyone at The Royal Automobile Club, thank you for the enormous amount of work, not just over the weekend, but in the months before. Ultimately, we presented a world class event and your determination and professionalism again ensured that the maximum number of people were aware of the three very different motoring events that took part over the weekend. I particularly want to mention the creative work put in to find celebrities and the time taken to make sure that they had a good time. I know there things you were doing, above and beyond the call of duty'. Peter Foubister, Motoring Secretary, the Royal Automobile Club
For thousands of motoring aficionados the London to Brighton Veteran Car Run is one of the highlights of the year. The 60-mile route from Hyde Park Corner to Madeira Drive is thronged by many clubs, associations, individuals and families who turn out to celebrate this hardy perennial treat.
The journey commemorates the Emancipation Run of 14 November 1896, which celebrated new-found freedom for motorists, granted by the 'Locomotives on the Highway Act', which raised the speed limit of automobiles from 4mph to 14mph and abolished the requirement for these vehicles to be preceded by a man on foot carrying a flag of warning.
Today the entry list for the event has grown from 33 cars to more than 500 – all of which must have be registered prior to January 1905. It is one of the largest free events in the country supported by tens of thousands of spectators along the entire length of the route.
In 2012 Eventageous PR felt incredibly priveledged to have managed the PR for the world-renowned London to Brighton Veteran Car Run. They utilised their celebrity contacts, and worked with many of the entrants to glean human interest stories for the media. Over 20 press releases were created in the build up to the event, highlighting some of the unique, often rare vehicles and distinguished people taking part. Much of the publicity was generated pre-event to ensure maximum exposure and public support on the day.
The event PR took many months to plan, prepare and execute, but the hard work generated more national and international coverage than the event had received in years.
Despite the torrential rain, spectators turned up in their droves, along with TV crews from the UK's BBC and ITV networks, plus Russia, China, Canada and Australia. The event was featured on BBC Country File, BBC News, BBC Radio 5, Reuters and CBS News. As well as broadcast, Eventageous generated over 300 UK printed articles including multiple items in The Telegraph, Guardian, Metro, Daily Express, Daily Star, Daily Mail, The Sun and The Times plus a huge array of regional and motoring glossy publications both pre and post event.
Eventageous PR also handled press accreditation for over 180 journalists and photographers in three separate locations en-route, ensuring that they had all the information required and followed up with picture requests post event.
For further information regarding the London to Brighton Veteran Car Run, please visit: www.veterancarrun.com.