Case Study - RAC Future Car Challenge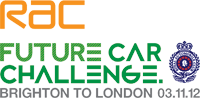 In 2010 Eventageous PR was tasked with launching the inaugural Brighton to London Future Car Challenge. The challenge was open for Electric, Hybrid and Low-Emission Internal Combustion Engine passenger cars and motorcycles to use the lowest energy on a 60 mile route from Madeira Drive, Brighton to Pall Mall & Regent Street, London. She has continued to develop this role during the past 3 years. The promotion included:
Promoting the development of new-energy and related technology of vehicles/manufacturers entered
Tying in historically with the Royal Automobile Club's world famous London to Brighton Veteran Car Run whilst protecting the brand image and reputation
Producing and delivering a series of compelling stories, facts, figures and interviews
Utilising celebrity contact book to take part and support the challenge
Managing the editorial content for media partners including: Daily Telegraph, Auto Express, Autocar, Evo and Octane
Liaising with sponsors, rally participants, through to car manufacturers and media.
Event media accreditation – managing media centers in multiple locations – pre, during and post event
The RAC Future Car Challenge event publicity generated over £3.5 million PR/event exposure, over 37minutes of national TV news coverage (despite the BBC strike the same weekend!) and over 300 national press articles in less than 8 weeks.
As a direct result Eventageous PR was then entrusted with the management of the prestigious London to Brighton Veteran Car Run – The World's Longest Running Motoring Event spanning 116 years and continues to work for the Royal Automobile club and their prestigious awards.