Eventageous PR supports several UK charities, not with financial contributions, but in "services" and kind, assisting with the organisation and publicity of fundraising events, or supporting other fundraisers with theirs. Some of this activity is completely subsidised by Eventageous PR or at a vastly reduced rate to cover operational costs. The charities that Eventageous work for, are those that are close to their heart.
Help for Heroes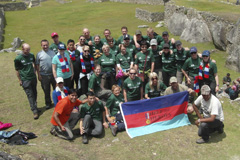 Rebecca and her husband had the first Help for Heroes themed wedding in the country and spent their honeymoon trekking across South America on a charity challenge alongside several injured servicemen. Along with a small group of their local friends, nearly £60,000 was raised and over £200,000 collectively as a wider group. She continues to support forces charities by promoting other people's events and fundraising initiatives.
Nationwide Association of Blood Bikes (NABB)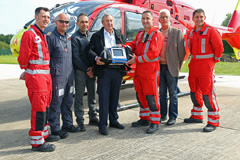 Prescott Bike Festival is an annual motorcycle event which takes place at Prescott Hill Climb. It's the biggest annual fundraiser for the charity Blood Bikes. A motorcycle-based charity which provides a FREE vital out of hours medical transportation service to the NHS delivering blood, pathology samples, urgent medical supplies and even human breast milk to special baby care units. Since its inception, Prescott Bike Festival has raised over £200k.
Eventageous provided PR services and event support to Prescott Bike Festival for 8 years. Aside from promoting the event, Rebecca was instrumental in securing many notable biker personalities.
www.prescottbikefestival.co.uk
Round Britain Coastal Drive for Prostate Cancer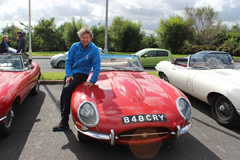 "We worked with Rebecca for our annual 'Round Britain Coastal Drive, supporting Prostate Cancer UK' over four years – twice for Jaguar E-types and twice for classic Jaguar XKs. Our aim was not only to raise funds but also, just as crucially, awareness. Hence publicity was vitally important. Rebecca did a superb job and we achieved widespread coverage on local radio, and in local and national newspapers, including a superb spread on the front page of the Daily Telegraph Business News. We raised a quarter of a million pounds and gathered widespread publicity. The charity was overjoyed and lives saved". Philip Porter, Jaguar E Type Club and brainchild behind the charity event
The Jaguar E-Type Club raised more than £250,000 for Prostate Cancer UK over four years. The quarter million-pound milestone was at the forefront of the mind of the Club Chairman Philip Porter when the event was first considered, and was surpassed in just four years.
Not only is this a significant milestone in fundraising for a single club, but it's driven from the heart. Jaguar E-Type Club chairman Philip Porter was diagnosed with prostate cancer in 2015, and following a successful operation he became the driving force behind this effort to raise awareness among men, as well as vital funds for research and treatment.
Philip came up with the idea of a drive for the Jaguar round the coastal roads of Great Britain. The route was split into 18 daily stages and covered almost 4,000 miles in 18 days with over 200 E-types taking part in at least one stage. The event was staged over 4 consecutive years with the aim to raise £250,000 for Prostate Cancer UK.
Eventageous worked closely with the Jaguar XK and E Type Clubs and Prostate Cancer UK to deliver the PR campaign for the 5 consecutive years covering all the media throughout the 18-day tour.
Rebecca/Eventageous PR was appointed as a freelance automotive publicist to manage the PR for the Jaguar Round Britain Coastal Drive, an event held for four consecutive years which consisted of 18 daily stages covering almost 4,000 miles in 18 days with the aim of raising £250,000. 
Eventageous PR secured celebrity participants (free of charge) and generated media coverage worth in excess of £550,000* of coverage. The event appeared in 550+ printed publications plus over a dozen broadcast – all targets successfully achieved! 

Henry Surtees Foundation
Following a successful PR campaign with John Surtees in 2013 Eventageous PR was appointed directly (at a charitable reduced rate) to assist John Surtees with managing the PR for the Henry Surtees Foundation and its fundraising events. She continues to work for the foundation and serve the family since John's death. Rebecca is incredibly proud to have served John Surtees, and will always fly the flag for him and the foundation. Yes, she agrees that it is a travesty that he never did received a Knighthood too! (the most common statement she hears).
The Henry Surtees Foundation was inspired by motor sport legend John Surtees CBE, following the tragic death of his son Henry, killed aged just 18 years old whilst competing in Formula 2 race at Brands Hatch in 2009. The foundation works actively with Air Ambulance and Blood Bike groups across the country, to fund and implement the 'Blood on Board' scheme which enables them to carry out blood transfusions at the scene of life-threatening incidents providing patients the best possible chance of survival.
The Henry Surtees Foundation seeks to help people return to community living, provides support equipment and facilities and promotes safety in driving and motorsports. The worthwhile causes supported by the Henry Surtees Foundation include the Kent, Surrey and Sussex Air Ambulance Trust, the Great North Air Ambulance, and its regional Blood Bike groups, plus the Midlands Air Ambulances, West Midlands Ambulance, Dorset & Somerset Air Ambulance, Lincs & Notts Air Ambulance, London Air Ambulance, Great Western Air Ambulances, Yorkshire Air Ambulance North West Air Ambulance Charity and Northern Ireland Ambulance Service.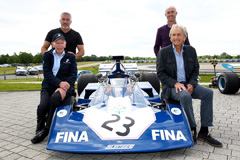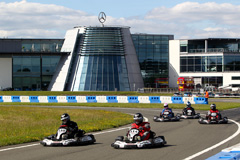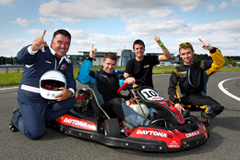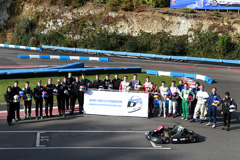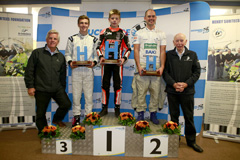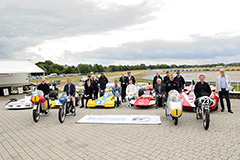 The Rotary Club of Tewkesbury
Rotary Club of Tewkesbury stage their popular Classic Vehicle Festival at Tewkesbury School Playing Fields in August. Now in its 9th year Tewkesbury Classic Vehicle Festival is the Rotary Clubs' biggest charity annual fundraiser which actively raises thousands of pounds for both national and regional charities. Over £125,000 has been donated since its inception.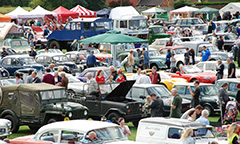 The event features a spectacular display of over 1000 classic vehicles, from the dawn of the motoring era, to pre-war, post-war, American classics, custom cars, hot rods, supercars, motorbikes, those of historic and engineering significance to mass produced retro run-abouts.
Thanks to the tremendous success of the event in August 2018, the Rotary Club of Tewkesbury were able to make a number of donations, including £6000 to the Midlands Air Ambulance Charity and £3000 to Sue Ryder Leckhampton Court Hospice.
Eventageous PR provide event management services, as well as PR.
By displaying your car, or by visiting the show or outdoor cinema night, you are making a valuable contribution to the stellar work of various charities selected by the Rotary.
For further event details, please visit: www.tewkesburycvf.org
Gloucestershire Vintage & Country Extravaganza
Gloucestershire Vintage & Country Extravaganza takes place annually at South Cerney Airfield, Cirencester on the first weekend of August. The show is regarded as one of the biggest and best Steam, vintage and countryside events in the UK ran solely by volunteers.
Set on an ex wartime airfield, the sprawling show site covers around 200 acres and features 1000 classic cars from pre and post war, including over 70 Classic American cars, 30 visiting car clubs, 335 motorcycles and scooters, 80 bicycles from 1903 – 1980, 30 miniature steam engines, 90 stationary engines, 70 full size steam engines, model engineering, 200 Tractors, over 70 Buses and Coaches, 130 military vehicles, 315 emergency and commercial vehicles, 70 industrial trucks, 50 vintage caravans and over 50 model aircraft taking to the sky above.
The show is organised by the Stroud Vintage Transport and Engine Club (S.V.T.E.C), a non-profit organisation that raises money for national and local charities, over 30 of which are on-site for the event, fundraising and raising awareness for their respective causes. The Club has donated over £200,000 for charity in recent years.
Whilst the show has evolved over the years, the mission remains the same – to inform, educate, celebrate and preserve our unique transport heritage.
Eventageous have provided PR, marketing and advertising services for over a decade and are proud to be involved with the show. When not working and managing the media, Rebecca and her dance friends are performing at the Vintage Tea Rooms on site.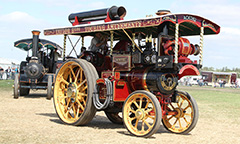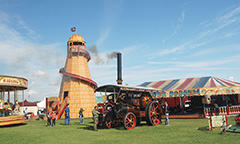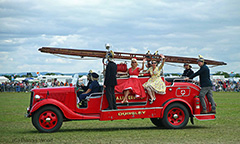 For further event information, please visit: www.glosvintageextravaganza